Linea Sketch
Sketch. Simply.
Do more with less.
Linea Sketch gives you the right balance of power and control to draw effortlessly. The focus stays where it belongs: on your creations, not the tools.
Designed for Apple Pencil
Linea Sketch was designed from the ground up for this revolutionary input device. If a Pencil isn't available, the app still works great with your finger.
Linea Sketch Tools
All the tools you'd expect.
Technical
Pencil

Art
Pencil

Felt
Tip Pen

Marker

Watercolor
Brush

Fill

Blend

Eraser
Brush Size
Preset, pressure sensitive brush sizes for quick creation.
Blend Modes
Additive & non-additive pigments for sketching and shading.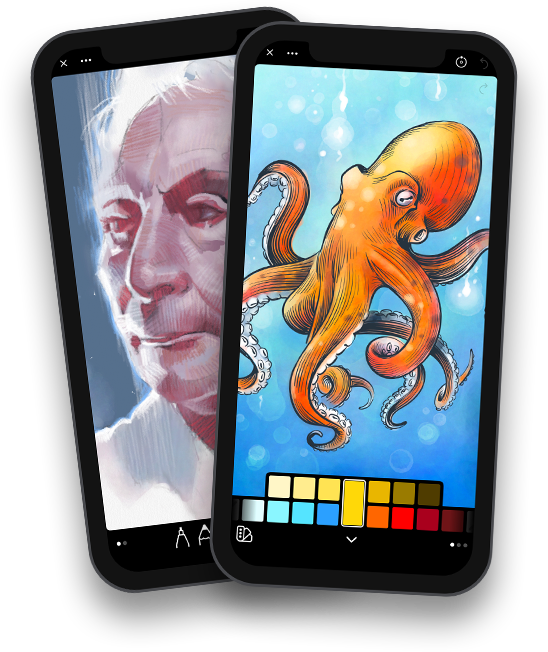 Take your sketches on the go...
Linea also works on your iPhone, so you can capture inspiration whenever it strikes. Use your finger for a quick sketch or write down some important notes with a stylus. No matter where you are.
...or bring them to your Mac, with Linea Link.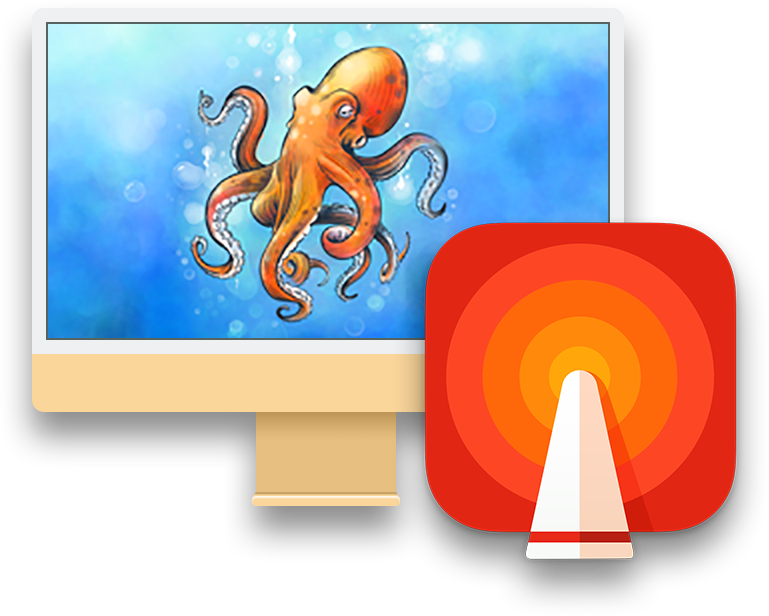 Easily open your sketches on your Mac with Linea Link, our companion app for macOS. Export them to your hard drive or directly into your favorite image editor:
Sketch
Acorn
Photoshop
Pixelmator
Download FREE for MacOS
Version History
Draw with a variety of seamless textures, change the cropping and aspect ratio of existing sketches, customize a sketch's thumbnail in the Project View, and more.
Linea Sketch 4.3
November 2023
New Features
Textures: Draw with a variety of pre-defined seamless textures

Open Layer options > tap the Textures icon (dot grid) to activate
Quickly select from a wide range of useful textures:

Abstract patterns (waves, scales, fur)
Architectural Materials (wood, stone, etc.)
Halftone dots (various screen densities)
Hatchings (crosshatching, angled, broken, etc.)
Stipples (light, medium, heavy)

Also works with Clear Ink as a stencil to erase patterns from your drawing
Use in tandem with Transparency Masking to confine textures to a specific area of your sketch

Canvas Resizing:

Change the overall size and aspect ratio of existing sketches
Tap More Actions (⋯) > Edit Canvas Size from within a sketch
Adjust the canvas based on screen size, aspect ratio, or custom settings
Quickly change aspect ratios based on a list of existing presets
Use Freeform to manually adjust the canvas size as needed
Expand canvases of sketches created on iPhone quickly and easily
Improvements
Thumbnail Framing:

Easily customize the appearance of a sketch's thumbnail in the Project view
Open an existing sketch and zoom in / pan to highlight a portion of the drawing
Once closed, the project view reflects the new framing for the sketch
Great for highlighting a particular portion of a sketch in the Project View

Updated the Blending Tool to achieve a smoother result when blending
Bug Fixes
Fixed a bug that could prevent autosaving of sketches while working
Turning off "ZipLine polygon support" in Settings now works properly
Fixed a bug that allowed zooming of the drawing view while an iCloud document was still loading
Premium feature. Purchase required.
Linea Sketch 4.2.3
August 2023
Bug Fixes
Fixed a critical bug that prevented sketches from autosaving under certain circumstances, causing potential loss of work
Fixed a small memory leak that occurred while time-lapse movies were being generated in the background
2 bug fixes
Linea Sketch 4.2.2
June 2023
Bug Fixes
ZipShapes no longer cause autosave to fail while drawing
Fixed a crash when duplicating the same lasso selection twice
2 bug fixes
Linea Sketch 4.2.1
March 2023
Improvements
Pixel accuracy for transformed and merged floating selections:

Selections now merge as cleanly as possible into other layers
Selections move in pixel-sized steps for optimum display when re-positioning
Selections remain pixel-aligned when rotated in 90° increments or flipped horizontally or vertically
Bug Fixes
The dynamic island no longer visually intrudes on the canvas on iPhone
Info bezel displays the offset values in pixels when transforming selections
Removed Twitter and added Follow us on Mastodon in Settings
1 improvement, 3 bug fixes
Linea Sketch 4.2
January 2023
New Features
Organic Ink:

New option for Pen and Fill tools
Create textured strokes with the Pen tool
Shade wide areas organically by tilting the Apple Pencil as you draw
Create enclosed shapes with rough, organic edges with the Fill tool

Import & Export:

Project Menu > More Actions (⋯) to import / export a wider array of files
Import multiple files simultaneously
Import sketches from single and multi-page PDF files
Import images from PNG, JPEG, TIFF, and PSD files
Import pages from 53/WeTransfer Paper journals
Export Linea documents to iCloud, Dropbox, etc. via the Files App
Improvements
ZipLine and ZipShape improvements:

ZipLines respond to variations in pressure from the Apple Pencil
Undoing a ZipShape restores the original stroke on the canvas
Undo restores each step of ZipShape transformations as long as the transformation controls are active
Undo of additional ZipLine segments keeps the ZipLine active for adding a different segment

Sharing extension improvements:

Project names are now sorted
Trash folder is no longer shown
Last project selected is now the default

Selection improvements:

Greater flexibility when undoing selections
Transformations can be undone back to their original state, where the set of layers to include in the selection can be changed
Improved the process for merging selected content into other layers

Added a new Extra Large 1×1 Grid template
Added a new App Design phone template with a Dynamic Island
Locking via the Canvas Compass is now saved as a part of the sketch
Selecting a layer now subtly flashes its contents for better visibility
Images larger than the canvas are now scaled down when importing
Bug Fixes
Painting with the watercolor brush now renders colors more accurately
Repeated applications of Clear Ink now results in a more natural effect
Sketches now appear correctly when shared via the Sketch action menu
Fixed a crash when merging a selection into another layer
Fixed a number of undo bugs with active selections
Fixed undo issue after a selection was cleared or cut
Screenshots on iOS 16 can now be shared with Linea
Premium feature. Purchase required.
2 new features, 8 improvements, 7 bug fixes
Linea Sketch 4.1.1
August 2022
Bug Fixes
Fixed a crash on iPhone due to missing resources
1 bug fix
Linea Sketch 4.1
May 2022
New Features
Project Collections: Organize your projects into handy groups

Arrange, name, and organize collections however you like
Drag and drop projects into collections to update
Assign custom thumbnails for quick reference
Collections sync across platforms via iCloud
Turn the Collection list on or off using Settings

Transparency Masking: Draw inside or recolor existing canvas elements

Activate from layer options palette
The layer's transparent pixels are ignored while drawing
Use any tool inside to quickly shade, add texture, or recolor
Automatically "stays within the lines" on any layer

Clear Ink: Draw or paint with transparency to "erase" areas of a sketch

Select the chip at the top of the color palette to activate
Turns any existing drawing tool into a "textured eraser"
Clear Ink knocks back existing color based on tool size and pressure
Blend areas of one layer into another to create textured effects easily

Video Help Library: Learn how to get the most from Linea Sketch

Watch helpful, step-by-step tutorials
Explore in-depth walkthroughs of key features
Enjoy time-lapse drawings to see how other artists work
Picture-in-picture allows you to follow along while working in Linea
Improvements
Project View:

New Trash container in the Project View safeguards your sketches
Deleted sketches are now placed in the Trash, not permanently deleted
Sketches stay in the Trash until emptied manually

Apple Pencil Double-Tap Actions:

New Clear Ink action added in Preferences > Apple Pencil > Pencil Double-Tap
Quickly toggle between the currently selected color and Clear Ink

Colors:

The hex values of custom color chips can now be copied as regular text
Visual improvements to custom color chips to identify them more quickly

Templates:

New templates section for Games
Sports scoresheets for baseball and bowling
RPG Character Sheet
Tic-Tac-Toe
Improved clarity of the template icon
Bug Fixes
Fixed theme-related interface bugs with custom color selection
ZipSquares and Rectangles are now drawn with pixel-perfect edges
Premium feature. Purchase required.
4 new features, 12 improvements, 2 bug fixes
Linea Sketch 4.0
November 2021
New Features
Annotations: Add simple text labels and notes to your sketches

Tap the "Aa" icon to enter Annotation mode, then on the sketch to create a label
Edit Annotations with iOS Scribble or tap with a finger to use the keyboard
Choose from a variety of fonts & save your favorite as a Canvas Default
Easily adjust Annotation text alignment, color, rotation, and size
Merge Annotations to a layer to add additional effects

Watercolor Brush: Paint and fill your sketch with organic pigment

Three brush sizes that vary with pressure of Apple Pencil
Choose between three modes:

Simple - Textured, painterly strokes
Wet - Watery strokes with pooled pigment at edges
Cloud - Textured splats & speckles for skies, landscapes, or backgrounds

Lockable Layers: Prevent changes and secure your work

Tap on lock icon in Layer palette to lock or unlock
Locked layers cannot be edited, merged, or selected with the lasso
Layers can still be rearranged, toggled, and sampled with the eyedropper
Improvements
General:

Compatibility with iOS and iPadOS 15
Updated tool palettes for the new iPad mini
New video tutorials: Settings > More Linea Sketch Tips

Tools & Backgrounds:

New Cotton paper background
New larger tool sizes for the Technical Pencil, Art Pencil, and Marker
Improved paging for additional brush sizes

Colors:

Reorganize custom color chips by tapping, holding, then dragging
Drag colors from other apps (like Pastel) into Linea's custom color sets

ZipShape Radius Control:

Adjust the corner radius of square or rectangular ZipShapes
Change all four corners simultaneously with a tap on any green control
Tap and hold on a green control to adjust a single corner

Information Bezel & Transforms:

Bezel is now easier to read when transforming selections or ZipShapes
Corner radii displayed for ZipShape rectangles & squares
Element being adjusted is highlighted in the bezel
Transforms snap to sizes (100%, 200%, etc.) & aspect ratios (1:1, 3:4, 2:1, etc.)
QuickToggle for snapping: hold down finger while dragging with Apple Pencil

Time-lapse:

Exported time-lapse movies now hold the final frame for five seconds
Improvements to time-lapse reliability and playback
iPhone can now export 30 second clips
Bug Fixes
Time-lapse movies can now be exported even after recording is toggled off
Fixed appearance of eyedropper icon in Recent Colors
Help & feature videos no longer stop music from playing
Premium feature. Purchase required.
3 new features, 6 improvements, 3 bug fixes